If you are new to this series, feel free to
start at the beginning
. For each of the 31 days of October 2013, I will write about practical ways to include classical education in your school routine, whether that is preschool, homeschool, or afterschool. I will focus on an age range of birth to fourth grade. This includes the grammar stage of the Classical Trivium.
---
Yesterday's post explained how to teach history using the classical model of chronology and cycles. A classical history study isn't complete though without the addition of geography. You could teach geography completely separate, but at least for the grammar stage, I like to incorporate it into the historical timeline. I teach both the historical maps of the time period as well as current political maps of the regions. I do this by layering the maps on top of one another. For example, here is how Alex studied the map of ancient Mesopotamia.
We begin with a current political map of the region. Alex colors and labels the countries that are associated with the region of ancient Mesopotamia. We use globes and the internet to add our labels.
Over the top of that map, I attach a piece of tracing paper. This is actually design vellum. It is a bit thicker than tracing paper. I have it on hand from our theatre days. Alex then uses the internet and the underlying map to trace rivers and oceans and label the areas of the ancient world.
Here is what it looks like with the ancient map overlay. This was our first go at a mapping project. Alex loved it. Next time I will have to find a better map so we don't end up with so much white space. I also should have had him color the regions of Mesopotamia.
If you don't have the time or inclination to do maps, you can always check out Timemaps. It is an interactive, online timeline map application. Alex loves this, too.
I also recently did a simple mapping project with my Sunday school class. Remember, these are five and six year olds. We colored a map of Abraham's journey from Ur to Canaan. It was very simple – really just a coloring project, but it was a big hit.
My example map of Abraham's journey for the students to copy.
Try different ways of mapping. I haven't found a kid yet who didn't like maps and globes.
Next, I will finish up this series with a few days of fine arts beginning with art itself, a few odds and ends, a list of resources, and a final recap of our classical journey. I hope everyone has found something of value in this series. It has definitely renewed my enthusiasm for classical teaching.
~Catie
---
This post is part of the 31 Days in October link up sponsored by nesting place. For 31 straight days, hundreds of bloggers will come together to write about a topic of their choice. Join us for hours and hours of great blogging!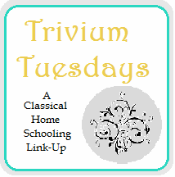 This post is linked up to Trivium Tuesdays at Living and Learning at Home.